" Travel Guide of Bhutan "
The Kingdom of Bhutan is a small landlocked country located in the southern foothills of the Himalayan mountain range, sandwiched between the People's Republic of China in the north and the Republic of India in the south. The country of rolling hills and charming culture always exudes the charm that cannot be missed. Bhutan, the Gross National happiness country, delightful people, dense forest, gigantic mountains, and exclusive cuisine, always give a delightful experience. This country is a jumble of impressions of festivals, big monasteries, remote villages, mask dances, hiking, trekking, museums, and archery competetions.
Bhutan is a place to experience and feel its warmth that will stay in your for lifelong.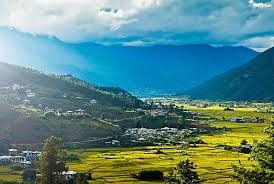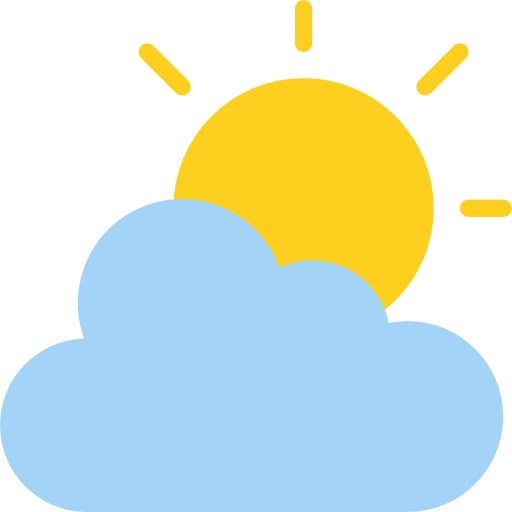 Weather and Climate
Climatic Zones of Bhutan Southern Bhutan has a hot and humid subtropical climate that is fairly unchanging throughout the year. Temperatures can vary between 15-30 degrees Celsius (59- 86 degrees F...
read more
Climatic Zones of Bhutan
Southern Bhutan has a hot and humid subtropical climate that is fairly unchanging throughout the year. Temperatures can vary between 15-30 degrees Celsius (59- 86 degrees Fahrenheit). In the Central parts of the country which consists of temperate and deciduous forests, the climate is more seasonal with warm summers and cool and dry winters. In the far Northern reaches of the kingdom, the weather is much colder during winter. Mountain peaks are perpetually covered in snow and lower parts are still cool in summer owing to the high-altitude terrain.
Seasons
Bhutan has four distinct seasons in a year.
Monsoon: Late June through July to late-September and is mostly confined to the southern border region of Bhutan.
Spring: It starts in early March and lasts till mid-April.
Summer: It commences from Mid-April with occasional showers and continues till late June.
Autumn: It starts late September or early October and lasts till late November. It is characterized by bright, sunny days and some early snowfalls at higher elevations.
Winter: It starts from late November and remains until March. Here one can experience frost throughout much of the country and snowfall common above elevations of 3,000 meters.
The Geography of Bhutan
The kingdom of Bhutan lies deep in the eastern Himalayas. It is surrounded by the Tibet Autonomous Region (TAR) of China to the north, and the Indian territories of Assam and West Bengal to the south, Arunachal Pradesh to the east and Sikkim to the west. The tiny landlocked kingdom has a total area of 46,500 km² and spreads between meridians 89°E and 93°E, and latitudes 27°N and 29°N.
The altitude zones of Bhutan
The relief of Bhutan can be divided into three altitude zones, namely, the the Greater Himalayas of the north ( where peaks easily reach 7000 meters ), the hills and valleys of the the Inner Himalayas ( Up to 4000 metres ) , and the foothills and plains of the Sub-Himalayan Foothills.
1. The Greater Himalayas
The towering Himalayan mountains of Bhutan dominate the north of the country, where peaks can easily reach 7,000 metres (22,966 ft) above the sea level. Some of the best known peaks are Jiwuchudrakey and Jumo Lhari. Permanent snow, glaciers and barren rocks form the main features of this zone. These snowy, glacial high lands are the sources for many of the rivers of Bhutan. At a little higher altitude, you will reach the tree line, the point where the vegetation changes from forest into small bushes of juniper and rhododendrons.
2. The Inner Himalayas
Rising continuously from the lower foothills to a height of about 4000 metres, the valleys of different heights and topography makes the country an ideal place for both native people and tourists within the mainland of Bhutan. The valleys of Bhutan are traversed by the country's five major river systems and their tributaries which ultimately drain to the Brahmaputra River in India. The valleys are linked by a series of passes (called "La" in Dzongkha, the national language of Bhutan). Between the Haa valley and Paro valley is the Chele La (3,780 metres (12,402 ft), the highest pass crossed by a Bhutanese highway. The Lateral Road from Thimphu to Punakha crosses the Dochu La (3,116 metres (10,223 ft)), which features 108 chortens (stupas) built to commemorate the expulsion of Assamese guerrillas. To the east of Wangdue Phodrang is the Pele La (3,390 metres (11,122 ft)). Continuing to the east along the main highway, other major passes include the Yotang La, Thrumshing La and Kori La (2,298 metres (7,539 ft).
The vegetation in this zone is a mixture of broad-leaved and coniferous forest.
3. The Sub-Himalayan Foothills
Stretched along the southern border of the country, the Duar Plain drops sharply away from the Himalayas into the large tracts of sub-tropical forest, grasslands and bamboo jungle. The altitude of the southern foothills ranges from about 200 metres at the lowest point to 2000 metres. This zone is rich in dense and sub-tropical vegetation.
The country came to be known as Druk Yul or The Land of the Drukpas sometime in the 17th century. The name refers to the Drukpa sect of Buddhism that has been the dominant religion in the region since that period.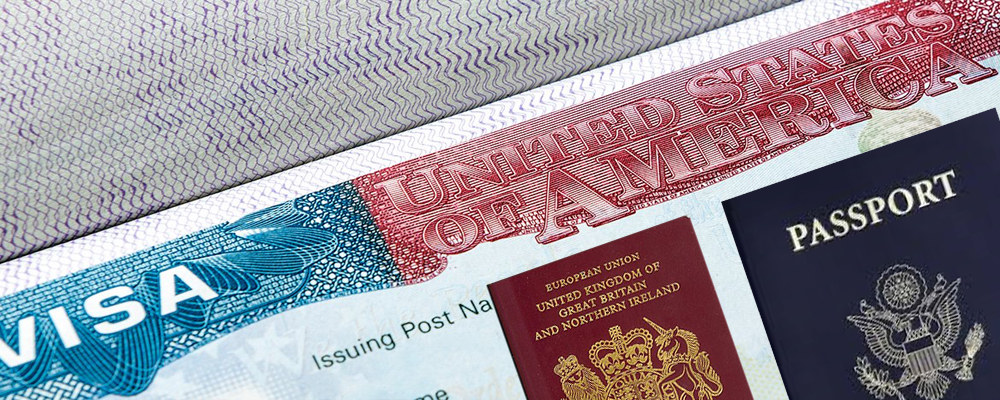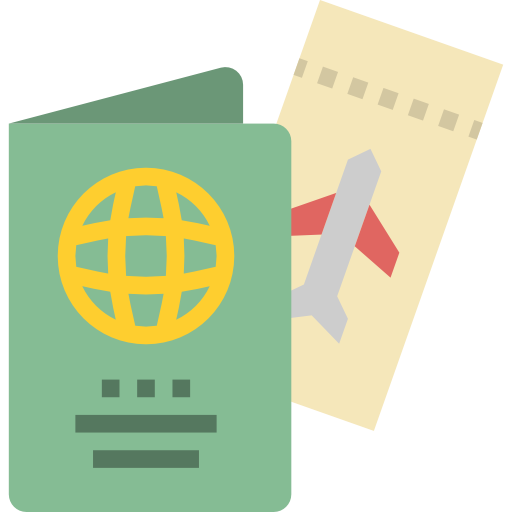 Visa & Travel Permit
Visa/entry Permit With the exception of visitors from India, Bangladesh and Maldives, all other visitors travelling to Bhutan need a visa. Indian, Bangladeshis and Maldivian nationals ca...
read more
Visa/entry Permit
With the exception of visitors from India, Bangladesh and Maldives, all other visitors travelling to Bhutan need a visa.
Indian, Bangladeshis and Maldivian nationals can obtain a permit at the port of entry on producing a valid passport with a minimum of 6 months validity (Indian nationals may also use their Voters Identity Card (VIC)). 
All other tourists must obtain a visa clearance prior the travel to Bhutan.  Visas are processed through an online system by your licensed Bhutanese tour operator directly or through a foreign travel agent.   
You are required to send the photo-page of your passport to your tour operator who will then apply for your visa.  The visa will be processed by the Tourism Council of Bhutan (TCB) once the full payment of your holiday (including a USD $40 visa fee) has been wire transferred and received in the TCB bank account.  Once received, the visa clearance will be processed within 72 working hours. 
At your point of entry you will be required to show your visa clearance letter, the visa will then be stamped into your passport. 
Online Regional Permit System
In order to streamline and facilitate smooth visitation by tourists from Bangladesh, India and Maldives, the Department of Immigration, Ministry of Home and Cultural Affairs and the Tourism Council of Bhutan have launched the Online Permit System. The system facilitates the online processing of permits for regional tourists through registered Bhutanese tour operators and TCB certified hotels. The facility is offered as an optional channel to process permits for visitors from the region and is applicable for entry from Paro and Phuntsholing. Visitors who use this facility will be able to obtain their permit clearances and route permits ahead of their arrival in Bhutan similar to international tourists.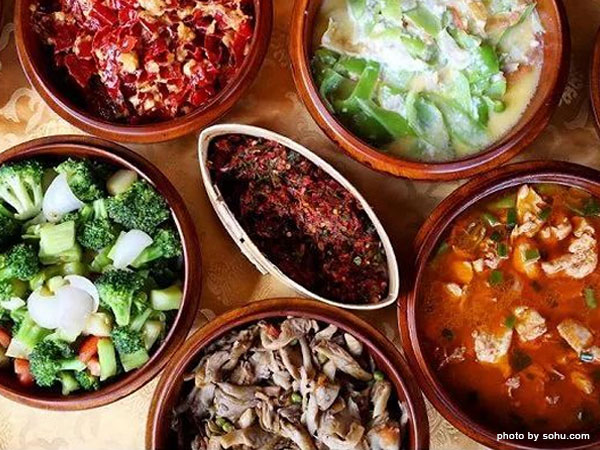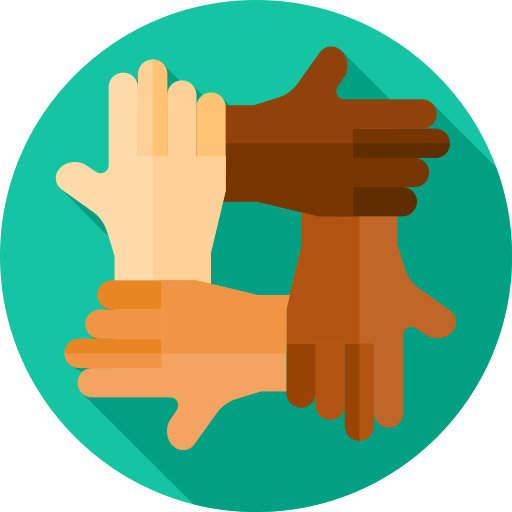 Culture, Cusine and Clothing
People Bhutanese people can be generally categorized into three main ethnic groups. The Tshanglas, Ngalops and the Lhotshampas. Society Bhutanese society is free of class or a caste system. ...
read more
Culture, Cusine and Clothing
People
Bhutanese people can be generally categorized into three main ethnic groups. The Tshanglas, Ngalops and the Lhotshampas.
Society
Bhutanese society is free of class or a caste system.
The Bhutanese are a fun-loving people fond of song and dance, friendly contests of archery, stone pitching, traditional darts, basketball and football. They are social people that enjoy weddings, religious holidays and other events as the perfect opportunities to gather with friends and family.
Religion
The Bhutanese constitution guarantees freedom of religion and citizens and visitors are free to practice any form of worship so long as it does not impinge on the rights of others. Christianity, Hinduism and Islam are also present in the country.
TRADITION AND CULTURE
While Bhutan is one of the smallest countries in the world, its cultural diversity and richness are profound.
As such, strong emphasis is laid on the promotion and preservation of its unique culture. By protecting and nurturing Bhutan's living culture it is believed that it will help guard the sovereignty of the nation.
EATING HABIT : Traditional Bhutanese eating habits are simple ....and, in general, food is eaten with hands. Usually, women who serve the food and in most cases, the mother.
FUNERAL: Death signifies re-birth or a mere passing on to a new life. In keeping with the traditions, elaborate rituals are performed to ensure a safe passage and a good rebirth. The deceased are normally cremated, funerary practices vary in few cases. In some parts of the country, people typically bury their dead while in some, they carry out 'Sky Burials'.
MARRIAGE: Marriages are simple affairs and are usually kept low-key. However, elaborate rituals .... are performed for lasting unions between the bride and the bridegroom. As the .... religious ceremony comes to an end, parents, relatives and friends of the couple .... present the newlyweds with traditional offerings of scarves along with gifts in the form ...of cash and goods.
BHUTANESE DRESS: .One of the most distinctive features of the ...Bhutanese is their traditional dress, unique ....garments that have evolved over thousands of ....years. Men wear the Gho, a knee-length robe .... somewhat resembling a kimono that is tied at ....the waist by a traditional belt known as Kera. Women wear the Kira, a long, ankle-length dress accompanied by a light outer jacket known as a Tego with an inner layer known as a Wonju.
Bhutanese wear long scarves when visiting Dzongs and other administrative centres. The scarves worn vary in color, signifying the wearer's status or rank. The scarf worn by men is known as Kabney while those worn by women are known as Rachus. .
Food
The most distinctive characteristic of Bhutanese cuisine is its spiciness. Chillis are an essential part of nearly every dish and are considered so important that most Bhutanese people would not enjoy a meal that was not spicy.Rice forms the main body of most Bhutanese meals. It is accompanied by one or two side dishes consisting of meat or vegetables. Pork, beef and chicken are the meats that are eaten most often. Vegetables commonly eaten include Spinach, pumpkins, turnips, radishes, tomatoes, river weed, onions and green beans. Grains such as rice, buckwheat and barley are also cultivated in various regions of the country depending on the local climate.
The following is a list of some of the most popular Bhutanese dishes:
Ema Datshi : This is the National Dish of Bhutan. A spicy mix of chilies and the ....delicious local cheese known as Datshi. This dish is a staple of ....nearly every meal and can be found throughout the country. ....Variations on Ema Datshi include adding green beans, ferns, ....potatoes, mushrooms or swapping the regular cheese for yak ....cheese.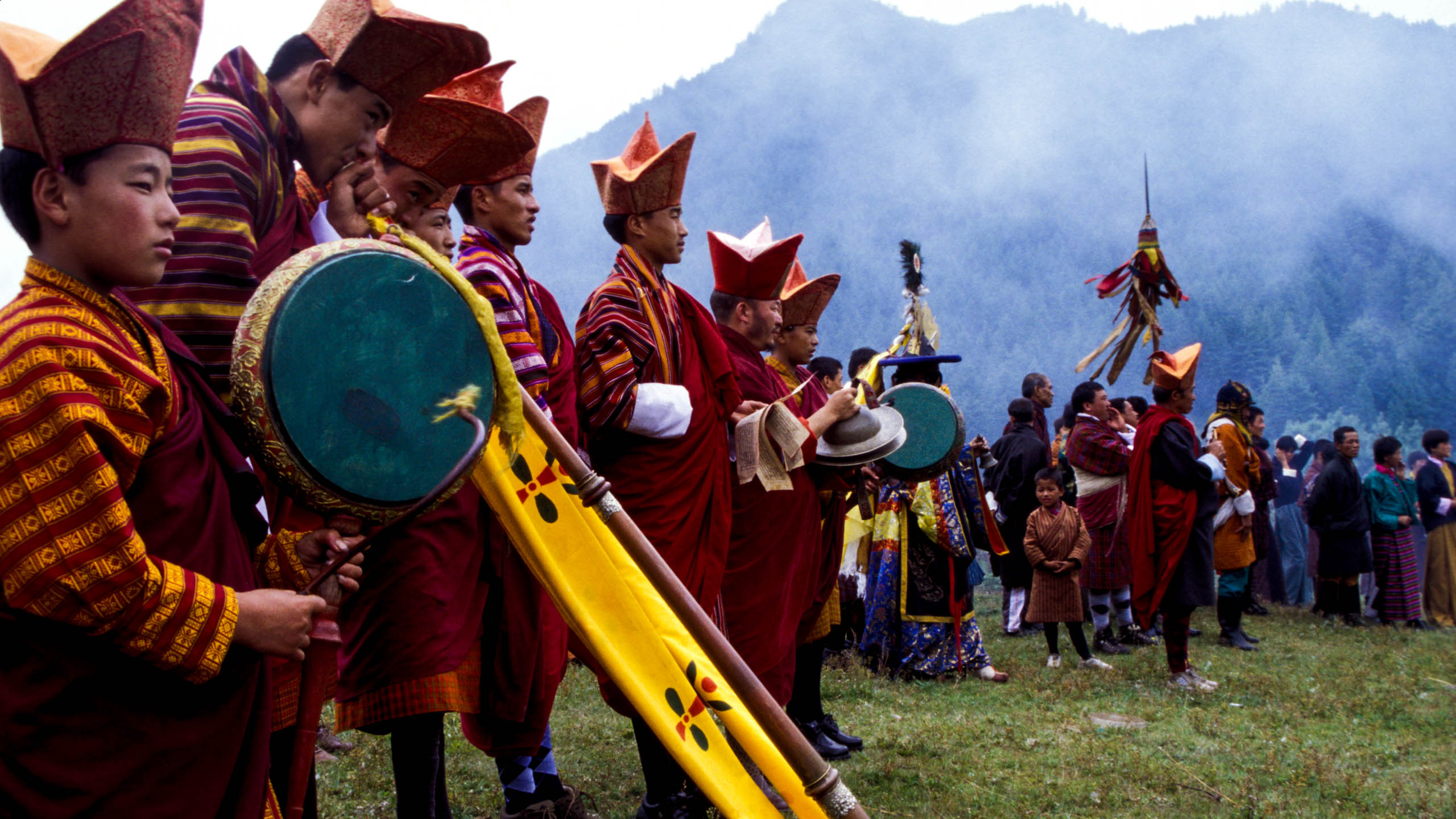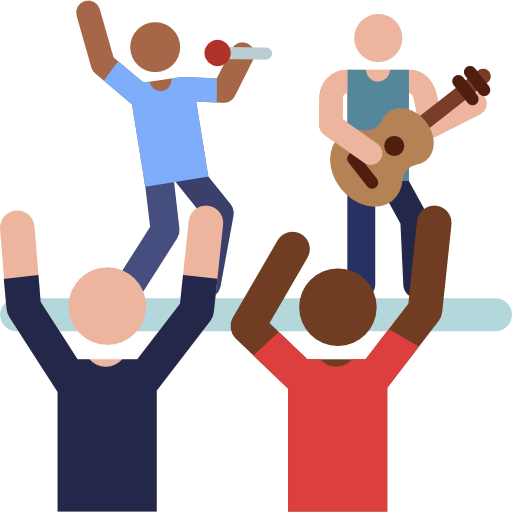 Major Festivals
Tshechu is a religious festival meaning "tenth day" held annually in various temples, monasteries and dzongs throughout the country. The Tshechu is a religious event celebrated on tenth d...
read more
Tshechu is a religious festival meaning "tenth day" held annually in various temples, monasteries and dzongs throughout the country.
The Tshechu is a religious event celebrated on tenth day of a month of the lunar calendar corresponding to the birthday of Guru Rimpoche (Guru Padmasambhava). However the exact month of the Tshechu varies from place to place and temple to temple.
Tshechus are grand events where entire communities come together to witness religious mask dances, receive blessings and socialize. In addition to the mask dances, tshechus also include colorful Bhutanese dances and other forms of entertainment.
It is believed that everyone must attend a Tshechu and witness the mask dances at least once to in order to receive blessings and wash away their sins. Every mask dance performed during a Tshechu has a special meaning or a story behind it and many are based on stories and incidents from as long ago as the 8th century, during the life of Guru Padmasambhava. In monasteries, the mask dances are performed by monks and in remote villages, they are performed jointly by monks and village men.
Two of the most popular Tshechus in the country are the Paro and Thimphu Tshechus in terms of participation and audience. Besides the locals, many tourists from across the world are attracted to these unique, colorful and exciting displays of traditional culture.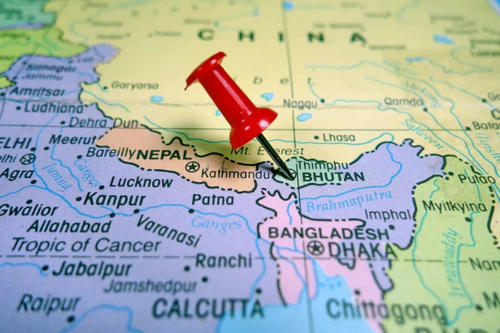 Getting to Bhutan
Travel By Land Phuentsholing, Gelephu and Samdrup Jongkhar are the only land border areas open to tourists. The town of Phuentsholing in south-west is located approximately 170 km east of ...
read more
Travel By Land
Phuentsholing, Gelephu and Samdrup Jongkhar are the only land border areas open to tourists.
The town of Phuentsholing in south-west is located approximately 170 km east of the Indian national airport at Bagdogra. After crossing Phuentsholing, you begin your journey to Thimphu, the capital city with travel time of about six hours for the 170 km stretch.
Gelephu, in south-central Bhutan, is another entry point to Bhutan. It is approximately 250 kms from Thimphu and the journey will take you through the sub-tropical areas of Bhutan before entering the alpine zone and then finally into Thimphu. One will have to traverse across three districts and the travel time will be about ten hours.
The district of Samdrup Jongkhar in south-east Bhutan borders the Indian district of Darranga, Assam and is approximately 150 kms away from Guwahati, the capital city of Assam. The journey from Guwahati is about three hours. Tourists entering Bhutan through Samdrup Jongkhar will take you to Trashigang, and from there over the lateral route to Mongar, Bumthang, Trongsa, Wangdue Phodrang and then finally into the capital, Thimphu. The distance is about 700 kms and will take you a minimum of three days to reach Thimphu.
Travel By Air
There are flights to destinations that include Bangkok, Delhi, Kolkata, Bagdogra, Bodh Gaya, Dhaka, Kathmandu, Guwahati, Singapore and Mumbai.
Paro is situated at a height of 2,225 m (7300 ft) above sea level and is surrounded by mountains as high as 4,876 m (16,000 ft). At present two carriers operate to Bhutan, Drukair and Bhutan Airlines. There are also domestic airports in Yonphula in eastern Bhutan, Bumthang in central Bhutan, and Gelephu in south-central Bhutan.
Flying into Bhutan's Paro International Aiport is typically an exciting experience as the descent into Paro valley brings you closer to the mountain tops than most other flights in the world. The flight between Paro and Kathmandu is one of the most exciting ones as the aircraft passes over four of the five highest mountains in the world. In fine weather, as you soar higher up, you can enjoy the spectacular view of Mt. Everest, Lhotse, Makalu and Kangchenjunga at their best.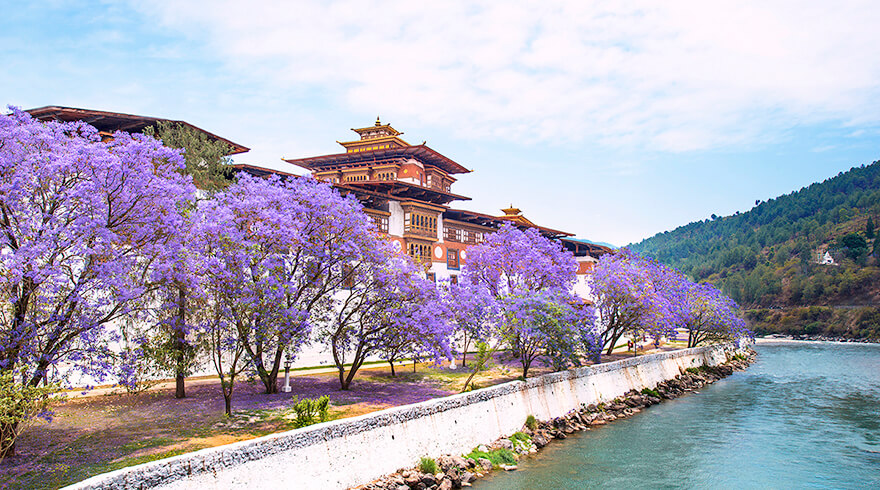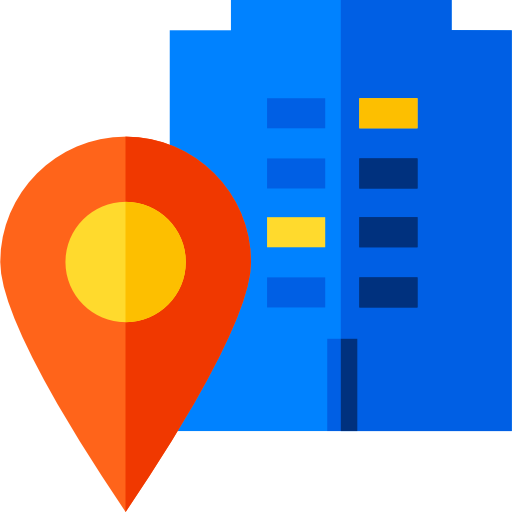 Best time to visit Bhutan
When is the best time to visit India? The best time to visit most of India is during the cool and dry season, between late September and March. Delhi, Agra, Varanasi, Rajasthan ...
read more
Best time to visit Bhutan
When is the best time to visit India?
The best time to visit most of India is during the cool and dry season, between late September and March. Delhi, Agra, Varanasi, Rajasthan and Madhya Pradesh are ideal at this time of year, and temperatures in Goa, South India, Maharashtra and central India remain quite comfortable.
However, from March onwards, the Himalayas grow more accessible for hikers. The trekking season reaches its peak in August and September while the rest of the Subcontinent is being soaked by the rains.
What is the best month to visit India?
The best months to visit India would be either November or February. These months are in the shoulder season between peak tourist months of December and January.
Visiting India in winter
Mid-winter sees the most marked contrasts between the climates of north and south India. While Delhi, for example, may be ravaged by chill winds blowing off the snowfields of the Himalayas, the Tamil plains and coastal Kerala, more than 1000km south, still stew under fierce post-monsoon sunshine.
Visiting India in December to February
The months of November, December and January are peak tourist season for the beach towns of not only Goa but entire India, except remote hill areas. At this time the coastal areas are blessed with dry weather and balmy temperatures post monsoon. Over Christmas and New Year, Goa is overwhelmed by domestic tourists as well as international visitors. If you plan to travel here in December and January, we recommend booking your transport and accommodation well in advance.
Since last decade, over in Delhi, the winter months are some of the worst for the city's air pollution levels. It is in winter when Delhi experiences the worst of its smog.
When to visit India in Spring
As spring gathers pace, the centre of the Subcontinent starts to heat up again, and by late March thermometers nudge 33°C across most of the Gangetic Plains and Deccan plateau.
Visiting India in March to August
Holi, the festival of colours, takes place in March. If you're lucky enough to be in India during Holi festival in March, you will experience an amazing atmosphere of fun, celebration and bright colours. March is also considered the best time of year to visit the wildlife parks of central India, such as Ranthambore and Kanha. Temperatures in the northern parts of the country, reach soaring heights of 36°C to 40°C, particularly in Delhi.On the coast, places like Goa and Kerala get a heavy rainfall and intense humidity during the month of May. Temperatures peak in May and early June, when anyone who can retreats to the hill stations.
Most domestic and international tourists escape to the Indian countryside and visit the hill stations, in Leh and Ladakh. If you do visit India during the monsoon season, you should pack pack waterproof clothing and sturdy shoes.
Avoid the coastal areas of the country during the summer months, as conditions are poor and most of the Goan beach resorts close down. Instead, head inland to the countryside of Tamil Nadu and visit some of India's hill stations.
In the north of India, July and August are great months to visit the hill stations of Ladakh. Rajasthan also manages to escape the humidity and rainfall of the monsoon, more than other areas. Prices also drop outside of the peak tourist season, so this is a good time to grab a bargain.
Visiting India in September to November
October and November are suitable times to visit Delhi and the Golden Triangle, as there are more bearable temperatures, similar to in February and March.
However, during October and November, you may encounter a lot more tourists at the popular sites and landmarks. Crowds can become a nuisance for places like the Red Fort or the Taj Mahal. Both domestic and international tourists visit the capital at this time.
September and October are good months to visit Kerala, as it has a more comfortable climate, with less humidity, a cool wind and breeze.
Diwali, one of India's biggest festivals, takes place at this time of year. The festival of lights, usually begins in October or at the beginning of November.
When to visit Wildlife National park
To visit Wild life national Parks, the best time is from October till March. However, if you can stand out the increased heat in April, the thinner vegetation and the lower waterholes, provides very good chances to locate "tiger" there in the national park.
In India, generally all the national park remains closed from May till September end. So, if you are interested in wildlife then we recommend you no to plan trip this time of the year.
When is Season time in Each Area?
Rajasthan, Gujarat.
Best time to go is October to March, but it doesn't really kick off until mid-November. This is a winter area, just like Goa. At other times of the year it gets too hot. No matter the season, in the afternoon the sand in the desert will burn your feet, but at night the wind from the Himalayas sweeps through and you have to put on socks to even walk on the cold sand!
Delhi & surrounding.
October to March is your best time to go to Delhi, although best avoided around January. It gets pretty cold! April and May are scorching hot.
Goa, Kerala, Tamil Nadu.
Monsoon starts earlier in the south of India than it does in Goa and eventually Bombay. Season time in North Goa is October-March or April, peaking in December with huge parties around New Years. In South Goa, you have less time, more like November through March.
Season in Kerala and Tamil Nadu is shorter even shorter, but along the same time frame. Once April hits in Kerala the humidity hits you like a brick. It was April 12 when I wrote this and I was in Kerala hiding inside from it the horrible stickiness and rain.
If you will be spending a week or more in Goa (which I highly suggest) then do check out my $25 e-book. The Insider's Guide to Goa is 170-pages long and will guarantee you have the best time in Goa, meet other travels, and chill at all the coolest places. Click here to purchase. I have information on what to do off-season and in peak-season.
Himachal Pradesh.
Season in the mountains starts in April and ends by October. It's the exact opposite of Goa. Tourist influx peaks during May and June, but the snow is just finished melting in May.
Manali in off-season
Uttarkhand (valley of the flowers).
There is only one month that is worth visiting the Valley of the flowers: ¬¬¬¬¬end of July. At this time the flowers will be at their best! June through September is the only time you won't see the valley covered in snow.
Nature parks.
I had someone tell me that if you go in the heat it is best because the animals will be out searching for water. I haven't been to a park yet, and wanted to go in monsoon. After hearing his advice, I might wait until the rains dry up.
East Coast, Pondicherry
There is a NE monsoon as well which hits at a different time that the SE monsoon that pummels Goa over. In November and December the East side of Kerala, Tamil Nadu, and north of there will get hit pretty hard.
Darjeeling, Sikkim, Calcutta
Calcutta sees the monsoon and gets close to flooded during May-Sept, same as Goa. You'd be best to go late September through November… but no later because it'll be way too cold. You can also go in April and May before the next monsoon comes.
What is different during off-season?
Many guesthouses are closed. In Goa, all beach shacks are torn down every monsoon and that can include small beach huts. Even if they aren't torn down, they aren't open. You cannot stay on the beach in monsoon. A couple budget guesthouses stay open in Anjuna and Chapora, but most likely you'll end up in a hotel that is over your budget, even at 50% monsoon discount.
Popular restaurants, especially those ran by foreigners are closed as they choose this time to go on vacation or renew visas. Ciao Bella, Sakana, Basilico, Villa blanche… all my favorite restaurants (I could go on and on) are closed. The owners are traveling or visiting home.
Even local restaurants sometimes close if their main clientele are foreigners because they won't turn a profit. Actually, you have to get a special permit to stay open during monsoon if you're by the sea.
When I was in Manali, I didn't get to try any recommended restaurants apart from Drifter's and Johnson's because of off-season closures.
Some routes are completely shut off, for example the Rohtang pass into Leh from Manali. This caused us a huge headache when we were stranded and had to hire a care in Sarahan, as no buses would take us further north.
It is not only an inconvenience, but prevents you from seeing what you came all this way for, and in my case cost me an extra 4,000 rupees I wasn't planning on spending on transportation. It's no one's fault but my own not planning my trip out! Make sure you don't make that mistake because if the road were open… you'd for sure die trying to drive it.
Outdoor activities are limited or shut down completely due to fewer travelers to make up the group. The rafting and canyoning in Goa near Palolem closes during monsoon (although that might be due to the river being too high), and the trekking and adventure sports in Manali are hard to come by during off-season. Foreigners, mostly Aussies and Kiwis, who go on vacation at low season, run many of these sports.
If you want to learn yoga, get reiki, get massages, or learn to meditate and all those other fun mystical things, keep in mind some of the best artists and spiritual leaders in each field are away during off-season. They sometimes move their practice along the tourist path where the tourists head to next. In most cases, they do six months in the mountains and six months in Goa. Rajasthan is pretty similar in off-season as it is on season. I was there right in between the switch and loved it (October).
If you would like to become a masseuse or yoga teacher yourself, you need to make sure classes are open. Because the class might include only you, the teacher may not see it as worthwhile to teach or may increase the price to make it worthwhile.
You might not see the "best" of the town. For example, in Goa during monsoon I wouldn't like to have any of my friends from home visit because I couldn't show them all my favorite places. The best places. Every restaurant is closed, most clubs, there are no trance parties, no flea market, or Saturday night market! It's gorgeous in monsoon and nice to experience, but it's not what people come to Goa for.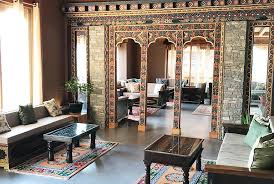 Accommodation
Hotels in Bhutan are rated according to a National .5 Star rating System. All Tour Operators are ....required to provide their guests with a minimum ..of 3 Star accommodations so you ca...
read more
Hotels in Bhutan are rated according to a National .5 Star rating System. All Tour Operators are ....required to provide their guests with a minimum ..of 3 Star accommodations so you can be assured ....of your comfort. Most hotels provide their guests ....with Television, Room Service, Fitness Centers, ....Spas and Wi-fi. However the exact services ....available will vary from hotel to hotel.
.In order to ensure that all visitors to Bhutan ....receive high quality accommodations and services ....Bhutan have initiated a 5-Star Rating System that ....classifies the various hotels and resorts operating ....in the country.
The system is referred to as the 'Hotel Star System' and it ranks the accommodations on a scale of 1-5 stars based on an exhaustive set of criteria.
Based on this rating system, establishments are classified into:
Farm-stays
Home-stays
Resorts
Hotels
Guesthouses
Additionally, visitors embarking on long treks will be provided with tents and whatever other camping equipment is deemed necessary. Regardless of where they stay, visitors can be assured of their comfort and traditional Bhutanese hospitality.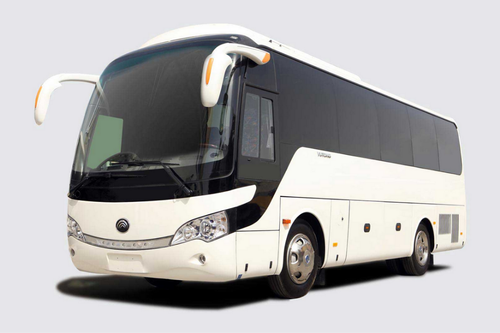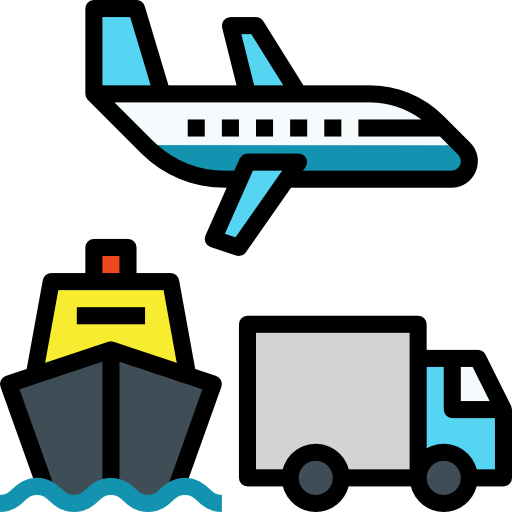 Transportation
Transport in India is available through all the means like any other country. Public transport is the primary mode of road transport for most of the Indian citizens, and India...
read more
Transport in India is available through all the means like any other country.
Public transport is the primary mode of road transport for most of the Indian citizens, and India's public transport systems are among the most heavily used.
Various mode of transport is used in India are:
Human/Animal powered like
Walking, Palanquins, Bullock carts/Horse carriages, Bicycles, Human-Pulled Rickshaws, Cycle Rikshaws.
Bus System , Motor Vehicles Like
Two Wheelers, Automobiles, Utility vehicles, Taxis, Pre-paid Taxis, Auto.
Rail network
India offers large rail network to its citizens as well as international tourists who wish to travel in style and luxury. Commuter Rail transport, Suburban Rail, Metro, Monorail, High speed rails like Shatabdi trains and Rajdhani trains connecting various destinations. Beside this many luxury tourist trains operates in India.
Airways
Air India is India's national flag carrier. IndiGo, Air India, SpiceJet and Go Air are the major carriers in order of their market share. These airlines connect more than 80 cities across India and also operate overseas routes.
Airports
he Airport Authority of India is the body that manages both the International Airports in India as well as the Domestic Airports in India.
Airports Authority of India (AAI) manages a total of 125 Airports, which includes 81 Domestic Airports, 11 International Airports, 25 Civil Enclaves at Defence Airfields and 08 Customs Airports. AAI is responsible for creating, maintaining, upgrading, and managing civil aviation infrastructure in India and works under the Ministry of Civil Aviation.
Ports and Shipping and Inland waterways are the other mode of transport used for various purposes.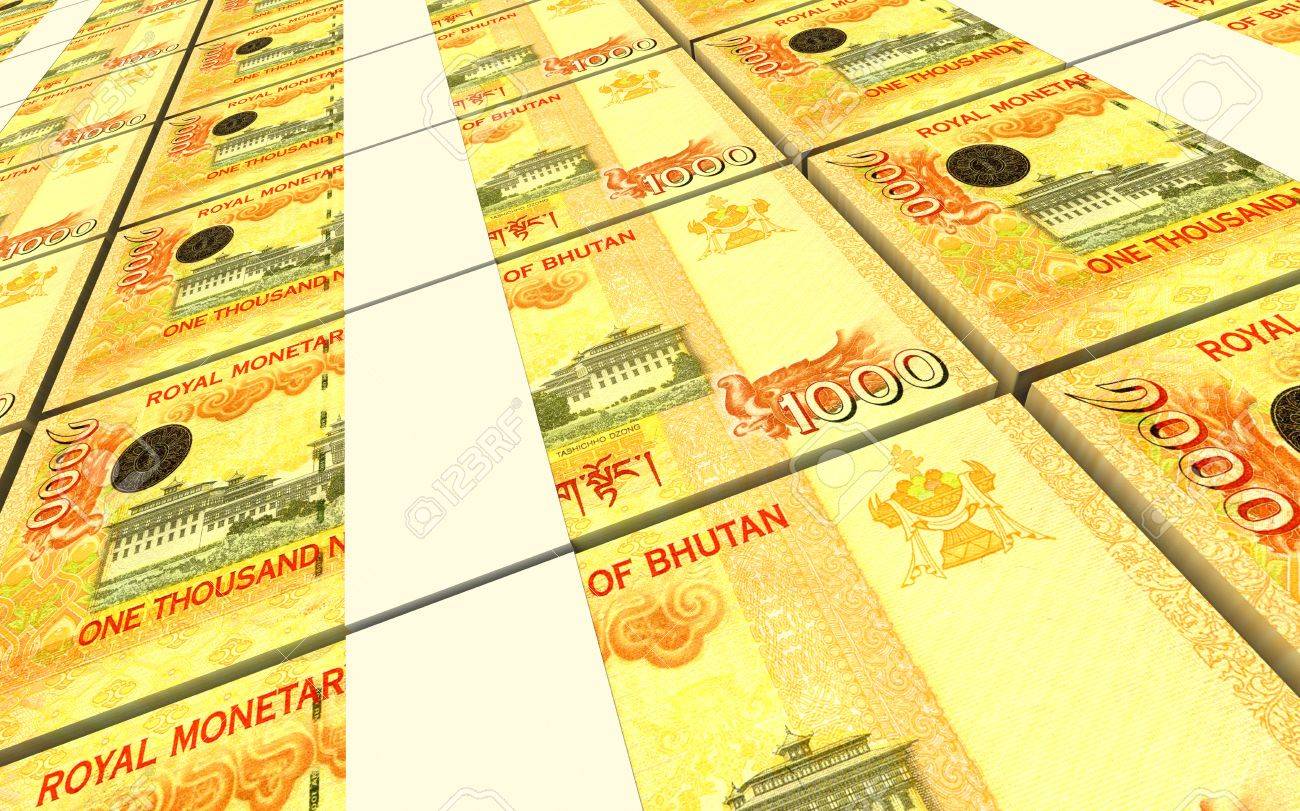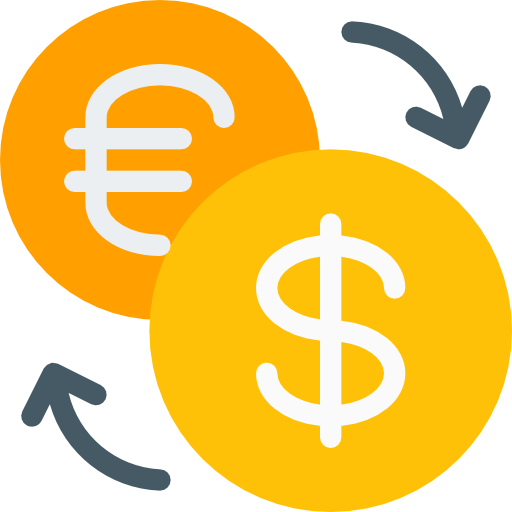 Currency
India's unit of currency is the rupee, usually abbreviated ₹ and divided into a hundred paise. Almost all money is paper, with notes of 5, 10, 20, 50, 100, 500 and 1000 rupees. Coins...
read more
India's unit of currency is the rupee, usually abbreviated ₹ and divided into a hundred paise. Almost all money is paper, with notes of 5, 10, 20, 50, 100, 500 and 1000 rupees. Coins in circulation are 1, 2, 5, 10 and 20 rupees, the latter two gradually replacing the paper versions, plus (rarely seen) 50 paise.
Don't accept torn banknotes, since no one else will be prepared to take them and you'll be left saddled with the things, though you can change them at the Reserve Bank of India and large branches of other big banks. Don't pass them on to beggars; they can't use them either, so it amounts to an insult.
Large denominations can also be a problem, as change is usually in short supply. Many Indian people cannot afford to keep much lying around, and you shouldn't necessarily expect shopkeepers or rickshaw-wallahs to have it (and they may – as may you – try to hold onto it if they do). Larger notes can be changed for smaller denominations at hotels and other suitable establishments.
Changing money
Changing money in regular banks, especially government-run banks such as the State Bank of India (SBI), can be a time-consuming business, involving lots of form-filling and queueing at different counters, so it's best to change substantial amounts at any one time. You'll have no such problems, however, with private companies such as Thomas Cook, American Express or forex agents. Major cities and main tourist centres usually have several licensed currency exchange bureaux; rates usually aren't as good as at a bank but transactions are generally a lot quicker and there's less paperwork to complete.
Outside banking hours (Mon–Fri 10am– 2/4pm, Sat 10am–noon), large hotels may change money, probably at a lower rate, and exchange bureaux have longer opening hours. Banks in the arrivals halls at most major airports stay open 24 hours.
Wherever you change money, hold on to exchange receipts ("encashment certificates"); they will be required if you want to change back any excess rupees when you leave the country and to buy air tickets and reserve train berths with rupees at special counters for foreigners. The State Bank of India now charges for tax clearance forms.
Credit Cards/Travelers Cheque
Renowned Credit Cards like American Express, Master Cards, Diners Club, Visa are generally accepted by large establishments, including hotels, shops, restaurants and at shopping places. Please note that small shops and vendors may not accept credit cards or travellers cheques, therefore we advise that at any given time you carry cash and loose change with yourself.
Tipping and baksheesh
As a well-off visitor you'll be expected to be liberal with your tips. Low-paid workers in hotels , restaurants , Tourist drivers
often accept lower pay than they should in the expectation of generous tips during the tourist season.
Tipping is a personal expense and depends entirely on the quality service provided to you and your appreciation of those services. Whilst tipping is not mandatory, it is expected at restaurants and by drivers, guides and escorts. The following estimated guideline may help you in determining the tip amount, should you wish to tip any service provider in India.
-Restaurants: Approx. 5 - 10 % of your food bill.
-Guide for a half a day: INR 300-500
-Guide for a full day: INR 500-600
-Driver for half a day: INR 250-350
-Driver for full day: INR 350-400
-Driver on outstation duty: INR 350-400 per day
-Escort: INR 400-500 per day
Check in and check – out at each hotel: INR 50-100 Per check in or Check out.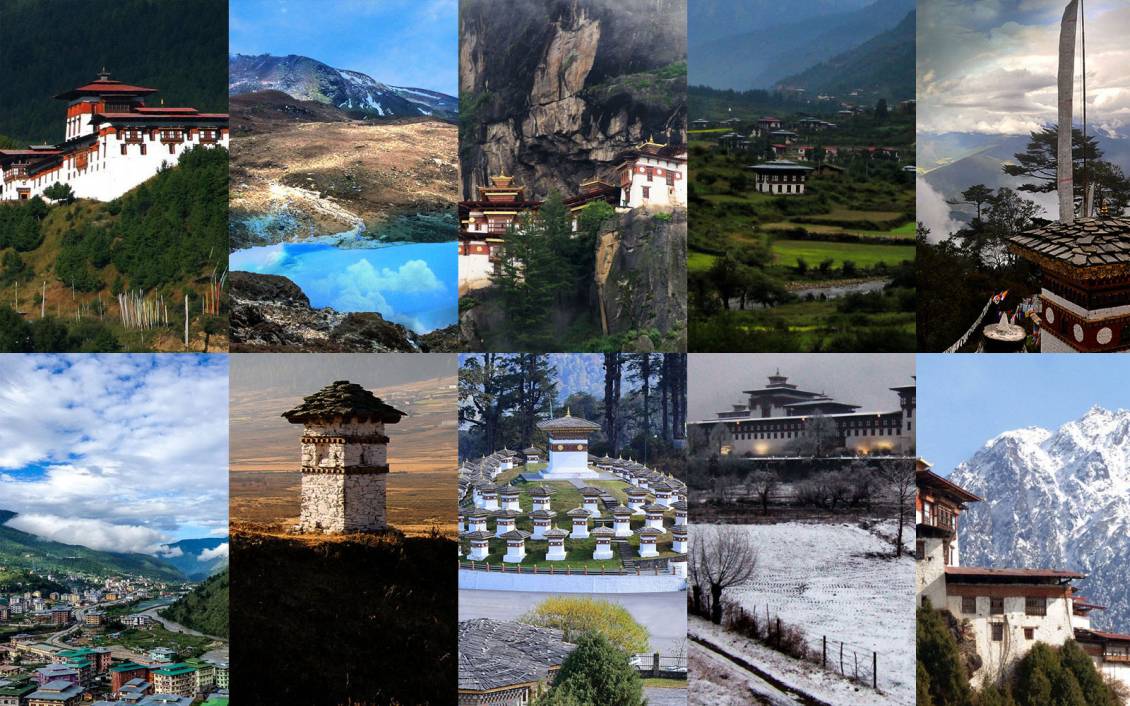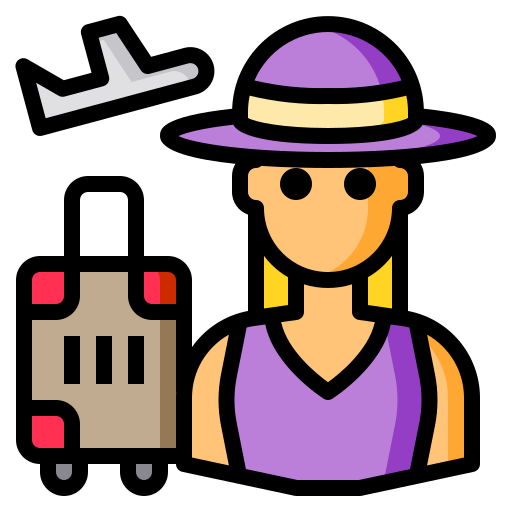 Tourist Attractions
UNESCO World Heritage Sites in India A site or place that is recognized by the United Nations Educational, Scientific and Cultural Organization (UNESCO) as a site of physical or...
read more
UNESCO World Heritage Sites in India
A site or place that is recognized by the United Nations Educational, Scientific and Cultural Organization (UNESCO) as a site of physical or cultural importance is known as a UNESCO World Heritage Site. UNESCO is a specialized agency of the United Nations (UN) that aims to promote peace and security in the world by performing important roles in different fields, such as education, science, culture, etc. Accordingly, it is involved in the identification and preservation of natural and cultural heritage sites found anywhere in the world. It believes that a place of physical or cultural importance should be protected and preserved for the public and future generations to learn and appreciate the past.
As of 2020, there are a total of 38 UNESCO world heritage sites in India, out of which 30 are cultural sites, 7 are natural sites and the remaining one is a mixed site.
List of cultural world heritage sites in India


Taj Mahal, Agra


Agra Fort, Agra


Ajanta Caves, Maharashtra


Ellora Caves, Maharashtra


Sun Temple, Konark


Mahabodhi Temple Complex, Bodhgaya


Group of Monuments at Mahabalipuram


Red Fort Complex, New Delhi


The Jantar Mantar, Jaipur


Churches and Convents of Goa


Fatehpur Sikri, Agra


Khajuraho Group of Monuments, Madhya Pradesh


Group of Monuments at Hampi, Madhya Pradesh


Group of Monuments at Pattadakal, Karnataka


Elephants Caves, Maharashtra


Humayun's Tomb, New Delhi


Great Living Chola Temples, Tamil Nadu


Buddhist Monuments at Sanchi, Madhya Pradesh


Qutub Minar, Delhi


Rock Shelters of Bhimbetka, Madhya Pradesh


Chhatrapati Shivaji Terminus (CST), Mumbai


Champaner-Pavagadh Archaeological Park, Gujarat


Hills Forts of Rajasthan


Rani Ki Vav, Patna


Nalanda Mahavihara (Nalanda University), Bihar


Mountain Railways of India


The Historic City of Ahmedabad


Victorian and Art Deco Ensemble of Mumbai


The Pink City, Jaipur


The Architectural Work of Le Corbusier, Chandigarh


Natural World Heritage Sites in India


Keoladeo National Park, Bharatpur, Rajasthan


Nanda Devi and Valley of Flowers National Parks, Uttarakhand


Western Ghats


The Great Himalayan National Park (GHNP), Himachal Pradesh


Sundarbans National Park, West Bengal


Kaziranga National Park, Assam


Manas Wildlife Sanctuary, Assam


Mixed World Heritage Site in India


Khangchendzonga National Park, Sikkim




Famous Museums in India
A museum refers to a place where artifacts and other objects of old times related to history, science, art, culture and rich heritage of a country are stored and exhibited. Every country has preserved its rich heritage in the form of museums. India also has lots of magnificent and world-famous museums, which are described below:
List of famous museums in India:


National Museum, New Delhi


Indian Museum, Kolkata


Government Museum, Chennai


Rail Museum, Delhi


Albert Hall Museum, Jaipur


Calico Textile Museum, Ahmedabad


International Dolls Museum, Delhi


Prince of Wales museum, Mumbai


City Palace Museum, Jaipur


Napier Museum, Thiruvananthapuram


Birla Industrial and Technological Museum, Kolkata


HAL Aerospace Museum, Bangalore


Crafts Museum, Delhi


Dakshinachitra Museum, Chennai


Jehangir Art Gallery, Mumbai


Vintage and Classic Car Museum, Udaipur


Sarnath Museum, Varanasi


Patna Museum, Patna


Shivalik Fossil Park, Himachal Pradesh


Chitra Museum, Goa


Folklore Museum, Mysore


Salar Jung Museum, Hyderabad


Paldi Kite Museum, Ahmedabad


Wax Museum, Kanyakumari


Island Museum, Hyderabad


Sulabh International Museum of Toilets, Delhi


Dogra Art Museum, Jammu


Mani Bhavan, Mumbai


Partition Museum, Amritsar


Government Museum and Art Gallery, Chandigarh




WILDLIFE
India is home to a large variety of wildlife.
India is one of the most biodiverse regions of the world and contains three of the world's 36 biodiversity hotspots – the Western Ghats, the Eastern Himalayas, and the Indo-Burma hotspot.
In response to decrease in the numbers of wild animals, human encroachment and poaching activities, the government of India established a system of national parks and protected areas in 1935, which was subsequently expanded. In 1972, India enacted the Wildlife Protection Act and Project Tiger to safeguard crucial habitat. Further, federal protections were promulgated in the 1980s.
Fauna
India is home to several well-known large animals, including the Indian elephant,[8] Indian rhinoceros,[9] Bengal tiger,[10] Asiatic lion,[11] Indian leopard,[12] snow leopard,[13] and clouded leopard.[14]Bears include sloth bear, the Himalayan black bear, the Himalayan brown bear, and deer and antelopes include the chausinga antelope, the blackbuck, chinkara, chital, sambar (deer), Tibetan antelope, goa (antelope), Kashmir stag, and the barasinga. It is home to big cats like Bengal tiger and Indochinese tiger, Asiatic lion, Indian leopard, Indochinese leopard, snow leopard, and clouded leopard. Various species of caprines, including Bhutan and Mishmi takin, Himalayan and red goral, Himalayan serow, red serow, Himalayan tahr, and Nilgiri tahr, as well as the kiang and Indian wild ass can be found. Reptiles like king cobra, Indian cobra, Indian python, reticulated python, and gecko are common. Birds include Indian peacock, great Indian hornbill, painted stork, greater and lesser flamingo, and Eurasian spoonbill.
Flora
There are about 18500 taxa of flowering plants from India. Flora and Vegetation of forest cover ranges from the tropical rainforest of the Andaman Islands, Western Ghats, and Northeast India to the coniferous forest of the Himalaya. Between these extremes lie the sal-dominated moist deciduous forest of eastern India; teak-dominated dry deciduous forest of central and southern India, and the babul-dominated thorn forest of the central Deccan and western Gangetic plain. Important Indian trees include the medicinal neem, widely used in rural Indian herbal remedies. Bamboo gardens are extremely common in jungles as well as villages. States like Sikkim and West Bengal have orchids. The national flower of India, the lotus flower, is common in lakes and ponds.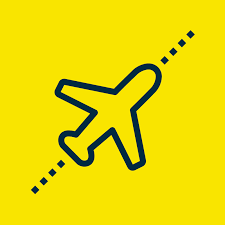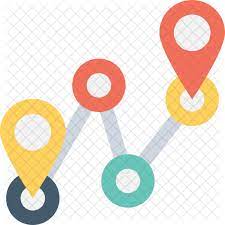 Itineraries/Tourist circuits
The Kingdom of Bhutan is a small landlocked country located in the southern foothills of the Himalayan mountain range, sandwiched between the People's Republic of China in the north and the Republ...
read more
Itineraries/Tourist circuits
The Kingdom of Bhutan is a small landlocked country located in the southern foothills of the Himalayan mountain range, sandwiched between the People's Republic of China in the north and the Republic of India in the south. The country of rolling hills and charming culture always exudes the charm that cannot be missed.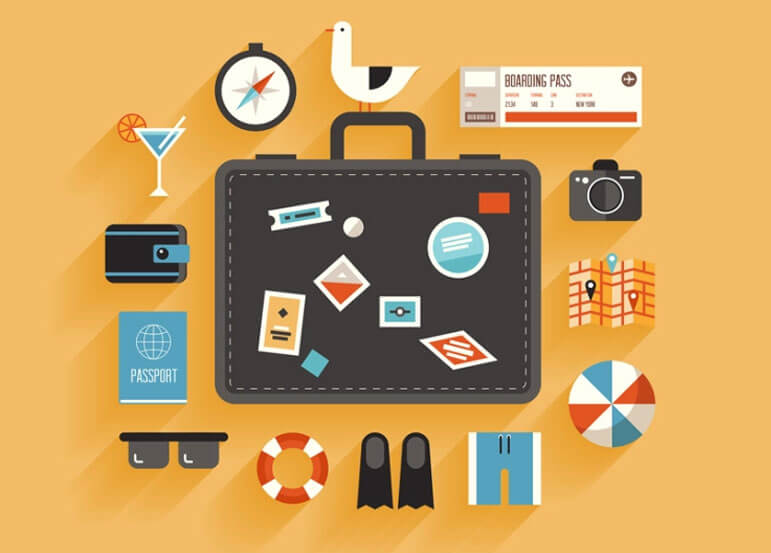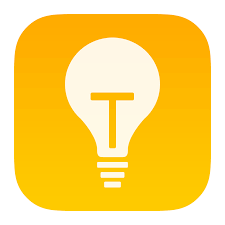 General Tips on Bhutan
1. Prepare yourself to see Cultural Change When you first arrive in India, it is essentially guaranteed that you will experience cultural shock. There is no use trying to fight ...
read more
1. Prepare yourself to see Cultural Change
When you first arrive in India, it is essentially guaranteed that you will experience cultural shock. There is no use trying to fight it. Instead, prepare yourself and accept that things will not be the same as you are used to back home. Try to open your mind and leave your expectations at home. Nothing can prepare you for the traffic of Mumbai or Delhi, where you'll dodge and weave past tuk- tuks and minibuses or when you reach a stoplight and children approach your car, banging on the car windows for food and money. There's no way to equip yourself for everything you're going to see, feel or hear during your time, so brace yourself for the unexpected by traveling with an open mind and taking everything as it comes.
2. Bring Your Camera
India is a street photographer's dream for a reason. There's so much to see and capture at any given moment. Your camera will showcase moments, experiences and encounters that you're too busy to notice, like a little boy picking up fruit at a street stall or an elderly woman looking up from a massive pile of saris. Plus, you'll leave with impressive photos to share stories of your incredible adventures when you return back home.
2. People DO speak English in many places
It is one of the languages that is taught in schools in India and if you're going to be on the tourist trail, which most people are, you won't have many issues with this.
4. You should get health insurance for India
You really shouldn't travel anywhere without travel insurance and India is no exception. If you get ill or injured, any medical treatment you require will be covered by your insurance and reimbursed. Some insurance policies will also cover you for theft, lost luggage, cancellations and anything else that can go wrong during your trip. This will give you peace of mind knowing that no matter what happens you will be taken care of.
5. India is seasonal in part due to the monsoons which are not always fun to travel in. The months that lead up to a monsoon are incredibly hot and are best to be avoided.
6. Northern India, including Delhi, can get very cold in the winter (jackets, boots, gloves) so bring warm clothing if you are coming in December and January.
7.The mountains close up in the peak of winter because the roads are impossible to drive on. There are areas called "passes" that shut when the roads are too dangerous and this can leave you stuck somewhere or ruin a planned trip. Traveling to the Himalayas in November to February is best avoided.
8.If you are traveling to India with your partner, avoid hugging, kissing or holding hands in public. These types of public displays of love are considered inappropriate in Indian culture and they will be frowned upon. Keep your affections discreet out of respect for the locals.
9. You need a VISA to visit India. Specific Visas are granted for variety of purposes. Please contact the High Commission of India for further details if you are visiting India other than tourism.
Visitors to restricted /protected areas need Special Permits and for this purpose an additional form has to be completed. Please contact the High Commission of India, in your country if you wish to ascertain whether any of the places you intend to visit fall in the category of restricted/protected areas.
Requirements for Visa
- Original passport valid for at least 06 months.
- Appropriate Visa fees
- Two Passport size photographs or varies, depend upon nationality.
- Duly completed application form, along with supporting documents, where necessary.
Kinds of Visa
Tourist Visa:
Tourists wishing to visit India will normally be granted at tourist Visa, effective from the date of issue. Tourists Visas are non-extendible and non-convertible. People who have to visit India frequently may be granted tourist Visa for a longer duration.
Business Visa:
Business visa are granted for 3 or 6 months. However, multiple- Business Visa for up to 2 tears validity may be granted to technicians/experts going to India in pursuance of bilateral agreements or joint venture projects, having government approval.
Student and Employment Visa:
Student Visa can be obtained on furnishing proof of admission to recognised universities/Institutions in India. Employment Visa can also be obtained on furnishing proof of employment with companies in India.
Transit Visa:
Transit Visas are valid for halts of up to 72 hours in India. The Visa remains valid within 15 days from the date of issue and must be obtained before departure. Transit Visa cannot be obtained from immigration counters at ports of entry in India. Evidence of onward travel to a destination outside India is required.
Entry Visa:
Entry Visa are issued to persons of Indian origin for duration of up to 05 years. These can be obtained, depending on the purpose of visit and eligibility, on case to case basis.
10. The cheapest places to fly in and out of tend to be Delhi and Mumbai. Sometimes Calcutta, and if you are going to Goa you can do a charter flight from some places.
11. On transport in India, do not take anti-anxiety pills or sleeping pills (unless you take them normally) to help you sleep as it sets you up as a target for theft. You should be careful not to take food and drink from strangers unless it's a family.
12. While you travel on train, you can lock you bag under the bottom of your seat.
13. Download the "Indian train status" app which seems to be only for Android and is always up to date on the train timings. Trains are delayed a lot and there's no point sitting at the station hours before your train.
14. Sadly, women shouldn't go out at night alone in the cities. Yes, there ARE a tiny very small percentage of men here who truly believe that women out late alone or women dressed against their idea of the norm, deserved to be harassed. It's tragic.
15. Be kind but not overly friendly. You might find it strange that in the culture, it's not common for a woman to smile and chat with a stranger who is male, but if you are too nice it will put off the wrong idea.
16. Do not take photos with dudes when they ask! It's weird and they've got to knock that off.
17. Only get really verbally angry if you need to. If a man touches you and you do not like, YELL at him. People will back you up. 99.9% of people here are GOOD and will be just as outraged. To stay safe, try to stay calm even if you are being scammed or stared at. You can calmly say that you will get the police if you think are being scammed, and you can tell a man firmly to look away without cursing.
18. Try to get transportation or tourist taxi from your hotel or the tour operator through you are traveling. Check and authenticate your address before traveling or hiring an auto etc.
19. Don't let the driver bring a friend… ever.
20. STAY OUT OF IT. See a child getting slapped? See a dog getting a rock thrown at it? Sadly, stay out of it. Indian women do slap their kids sometimes. It's a different culture. Many people hate dogs here as dogs can be aggressive and bite. You can't change a culture and a person who would harm a dog is an asshole, so imagine if some foreigner tries to correct them…. they will be furious
21. Know a few words in Hindi!


Namaste- Hello


Acha- good


Acha na-he- not good


Teek hay- right, yeah or say ha/ haji -yes


Bus- stop (for a rickshaw driver is handy. You can add yaha-here)


Kitna rupia- how much?


Krupiyah- please & shukriyah- thank you


Mutlub- meaning? Apka mutlub ho? (what do you mean?)


Ek bottle Pani dedo- give me 1 bottle water (krupiyah- please!)


Madat- help
1, 2, 3, 4, 5- ek, do, teen, cha, panch




22. Don't take out more than 10,000 Rs from the ATM at a time. That's about $160. If you bank with someone like Charles Schwab who doesn't charge ATM fees you can save a lot of money and take out even less, like 5,000 Rs. at a time.
23. Travel with a buddy to split room costs in two! Curries are usually big enough for two as well, so you can cut your food cost in half as well. Few of the dishes are taste worthy.
- Palak paneer is spinach and cottage cheese (although not the cottage cheese we have in America, cubes of cheese). It's very tasty. This is a veggie favourite.
-Butter chicken or Tandoori Chicken is a meat eaters' favourite in the North and is a dish you HAVE to try while here. Same goes for chicken tikka. Indian Roti (Bread – like Butter Naan or simple Roti ), guests likes a lot. One must try. Ask for less butter and cream if you don't want to put on 10 pounds while you're here.
24. Typically families will have either roti and chapati (bread) or rice with their meal, but most tourists order both because while eating with your fingers some find it easier to pick up the rice and curry with the bread. You can really just go for it with your hands though and dive into the rice. It's nice and you can get the perfect bite not having things falling off a fork!
25. In the South, you'll get healthier curries (less cream) and will notice they have more coconut milk. You must have a masala dosa!
26. On the coast, you have to get "fish curry rice" or "prawn curry rice" as well as fried prawns and calamari.
27. You won't have a lot of beef, especially up North. In Delhi, Mumbai, Rajasthan, and other huge areas of the country you won't find it on a single menu (even the 5-star hotels). If you do, it's actually water buffalo. In Maharashtra, it's illegal. In Goa there is beef and in Kerala there is beef.
28. Unless you're in a great restaurant in the city of a tourist area like Goa, don't get "American" food. It'll be Indianized and not tasty. Definitely don't get Mexican food! If you really want something "Western" then go for a sizzler which will be meat and veggies on a hot plate.
29. If you want a bit of everything, get a thali. The plate will have a curry, rice, bread, pickle, and dal (chick pea thick soup, kind of). Depending on where you are, the thali will be totally different. For example, in Goa the fish thali is to die for!
30. To drink: salt or sweet lime soda, chai (tea that is milk tea & about 5 rs), and lassi! Lassis are yoghurt fruit drinks.
31. Know a few words in Hindi!


palak – spinach (could also be called saag)


paneer- cheese


aloo- potato


jeera- cumin, you'll often see jeera rice as an option


gobi-califlower


nimbu-lime


mattar- peas


chana- chickpea


kofta- kofta will be a ball of veg usually, although it may confuse as in Middle Eastern food it's meatball.
masala- this refers to a spice mixture which is often used or can mean a variety of veggies as in "masala omelette" which would be an omelette with chili, onion, and tomato.


papadum- you can't get these everywhere but they are similar to a tortilla but made of lentils.


pakora- means deep fried.. if it's pyaj pakora it's onion, you could have gobi or anything really. It is (i think) the same as bhaji which is fried, as in "chili bhaji" a deep fried chili served with ketchup…mmm!


raita- yoghurt side, used as a condiment




32. Try not to have huge expectations on seeing and doing everything you want. Transportation takes longer than you'll guess and you might have to cut places off your itinerary. Try not to stress. So, to dive into it, Rajasthan is the awesome desert state. Popular spots re Jaisalmer (camels), Pushkar (holy lake), Udaipur (floating palace), Jaipur (pink city), and Jodhpur (blue city).
33. Himachal Pradesh and Uttrakhand are the mountain places and in that state, people chill in Manali and go trekking. Usually Delhi is next from here, and people hit up Agra from there.
34. Rishikesh would be done while up North as well and is the place made famous by the Beatle's. Goa is the hippy place, but this is a close second.
35. Kerala is "gods own country" and is stunning with rolling tea fields, perfect beaches, and Nature parks.
36. You'll want to do a safari somewhere but there are so many options, it will really depend on your itinerary. They are more expensive for foreigners than Indians, as are all government tourism sites (example: Taj Mahal). Not only India does this, but many developing countries in Asia.
37. If you want something different, I'm all about Karnataka and NE India. Karnataka is a hidden gem and NE India is a Tibetan influences Buddhist area in some places, and tribal in others. It's SO cool.
38. Don't overpack. You will get lots of medicine here in India, except something like birth control which is only in big cities and Goa (from what I've found so far). Don't bring more than one pair of jeans. Don't pack like you are going to another world. You will still want cute clothes and practical things.
39. There is staring. It's not only men but in some rural areas, women may stare. It can be unnerving when you are on a train trying to sleep and every time you peek out you see 10 eyes on you. Such is life.
40. It's not a big "thank you" culture. Thank you 's are understood here so if you tip high, don't expect a big thank you but instead just a nod.
41. There's a "me first" attitude that is very Indian. When driving, people honk and pass constantly even if they are going to continue the same speed ahead. The roads are insane. When getting off a plane, people in the windows seats are pushing out to the isle to push to the front to get off the plane first. It makes no sense, but absolutely happens in so many scenarios.
42. Indians don't say no. Okay they do, but not often to tourists! If you ask a question, try not to make it yes or no, because when they don't know the answer they often say "yes". "Is the SIM card shop this way?" "Yes" even though they don't know what you even asked. They don't like to disappoint particular in small and satellite cities.
43. First step is preparation and prevention. You should make sure you have vaccinations and required boosters. Bring your own birth control (pills, protection of other kinds) as you will have a hard time finding it here.
44. You will get Delhi belly at some point if you are here a long time. Don't panic. If it's been a few days, seek help. Don't take Imodium as it's better out than in. If you have the shits, you should get a stool test done at a clinic. Do not just go to the chemist and take whatever random antibiotic he happens to have closest to him when you walk in. You destroy your immune system doing this over and over.
45. Mosquitos… they are the devil, no? You should wear spray when in areas that have them. There is no prevention to Dengue and no cure. It has to leave your system. Malaria has a cure and should be treated immediately. It's not usually a big deal in India as the strain isn't the same as in some places like areas of Africa.
46. Tylenol isn't a thing everywhere. even in UK they say paracetamol … remember to use the "science" name not the brand name when you ask the chemist for drugs.
Bring Traveler's Diarrhea Tablets
Unfortunately, one of the common experiences that many travelers to India encounter is the dreaded "Delhi Belly." No matter how careful you may be, your body will not be used to the array of different bacteria that is in the water and food in India. This is why it is good to have traveler's diarrhea medication with you – before you need it.
47. Many temples will ask you to take off your footwear before entering. So, it is a good idea to wear shoes that you can easily slip on and off, like sandals. If you are worried about your shoes getting stolen from the front of the temple while you are inside, you can keep them in your backpack or give the temple attendant a few rupees to keep an eye on them.
48.Whenever you are in a busy public place, be on your guard to make sure that your personal belongings are safe. Don't carry your wallet, passport or phone in your back pocket – keep it in your front pocket or in a zippered pocket. Don't wear a lot of expensive jewellery or accessories – keep it simple and only carry the basics. If you have to walk late at night, walk with a companion, whether it's a guide, a friend or a family member. And always, stay calm. It's easy to get caught up in the chaos of it all, so let yourself have some moments of reflection before reacting.
49.Carry Handsanitizer: It is a good idea to carry these around with you, as they are rarely found in public washrooms.