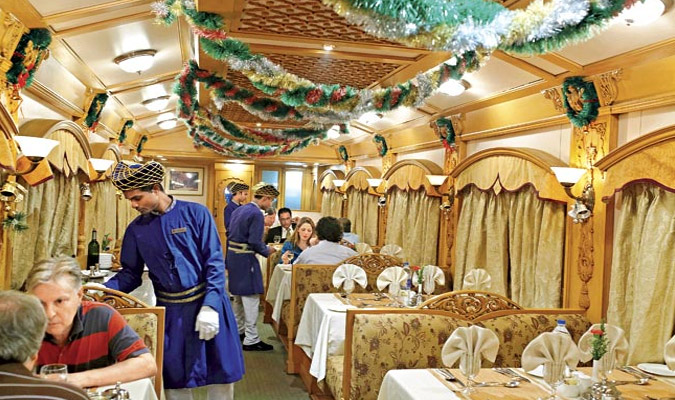 Indian Odyssey Journey
Train Journeys
8 Days
THE TOUR AT THE GLANCE
Welcome to Indian Odyssey, a spectacular train journey in inimitable royal style and luxury on one of India's iconic trains, the Deccan Odyssey. The Odyssey will take you on an 8-day extravaganza, through the fascinating, ever-changing vistas of a colourful, vibrant and ancient India, from its capital Delhi to its premier metropolis Mumbai, traversing ancient kingdoms and their historic traditions as you attempt tiger spotting at Ranthambore, visit the glorious Taj Mahal at Agra, the effervescent city of Jaipur, the lakes and palaces at Udaipur , view the beautiful monuments of Vadodara, and visit some of the most prominent & unexplored destinations of west-central India, with a trip to the unrivaled Ellora Caves. A railroad journey like none other, in a land like no other, we welcome you on board the Deccan Odyssey.
EXPERIENCES AND VISITS IN THIS TOUR JOURNEY
Go tiger-spotting in one of North India's most popular and biggest national parks, Ranthambore National Park
Experience the magic of love and flawlessness of architecture at The Taj Mahal
Shop for colorful traditional handicrafts, artifacts, clothing, and accessories in the streets of Agra, Udaipur and Jaipur
Explore World Heritage Sites and India's architectural marvels in Agra, Vadodara and Jaipur
Relish secret recipes straight from the royal kitchens of Rajasthan and Vadodara
Shop to your heart's content at the bustling and colourful bazaars of Rajasthan's royal cities
Discover the extraordinary cave temples of Ellora, a World Heritage Site
Market tour at Agra, Jaipur and Udaipur for sightseeing and shopping
Hill fort and cave explorations at Jaipur and Aurangabad
Visit the architectural galore of Agra, Jaipur, Ranthambore and Vadodara
Visit one of the best Hill Forts of Rajasthan, Amer Fort, in Jaipur.
Have lunch in Jagmandir Palace, where rhythm of Jal Tarang and taps of Tabla would accompany youVisit Laxmi Vilas
Palace which is four times the size of Buckingham Palace
Indulge yourself in the delectable Royal Kitchens of Rajasthan and Vadodara
Become a shopaholic getting indulge in traditional markets.
Lunch and tea at royal and luxurious hotels
Embarkation & Disembarkation (Indian Odyssey Journey)
Check-in Venue & Timing – Safdurjung Railway Station, Delhi /1830 hours
Departure Station & Timing – Safdurjung Railway Station, Delhi / 2130 hours
Arrival Station & Timing – Chatrapati Shivaji Terminus Railway Station, Mumbai at 0815 hours
In Delhi security check will be conducted at the time of check-in at the railway station, whereby, luggage is required to be scanned. Please present your passport at the time of check in to collect ticket voucher and relevant documents.
WHAT YOU WILL RECEIVE IN YOUR TOUR COST
Total 07 night's accommodation on The Indian Odyssey (Deccan Odyssey)
Accommodation in double / twin bedded cabins with attached bathrooms
All meals including tea, coffee and mineral water and house brands of Indian wines, beer and spirits during The Golden Chariot
Guided off train tours as included in the journeys inclusive of entrance fees, still camera fee, transport and services of a guide
Butler service, complimentary tea, coffee and mineral water on board
Porter charges at stations
Entrance fee to monuments and museums
All local tax and service tax, as applicable at present.
TOUR COST WILL NOT INCLUDE FOLLOWING EXPENSES
Airfare and airport taxes.
Pre and post tour accommodation
Liquor, tips, laundry, telephone calls, video camera fees, Business Car
Facilities, Spa Car Facilities and other items of personal nature
No charter can be booked during X-Mas & New Year period.
Tariff Subject to change without notice
Expenses of personal nature like drinks, personal insurance, tips, and telephone calls.
Any additional expenses due to unforeseen problems like natural disaster, war or strikes, cancellation or misconnection of flight or last minute change of timings etc.
Any other service, which has not been specified as "included".